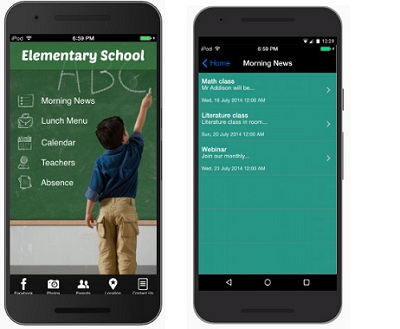 AppsinaSnap Apps Engage

And Inform Students And Faculty

The big news on campus is an app from AppsinaSnap. It's the ideal way to keep your students informed, motivated and connected to campus life.
We create apps for the most popular platforms; iPhone, Android, iPad and android tablets
Update your information yourself, or let AppsinaSnap do it for you with a fax or email
Provide emergency preparedness information
Give your students access to your school's faculty and staff directory
Simplify student orientation with audio and video tours
Social Media Integration: Twitter, Facebook, LinkedIn and Pinterest
Campus maps and building floor plans
Social wall
post school events
Display campus and building floor plans
Broadcast the school radio station
Display athletic teams schedules and team information with players bios
Display a map of your location and directions to campus locations using a phone's built-in GPS navigation
You can learn more about our mobile apps from your in-person AppsinaSnap rep. Call or email today to set up an appointment.