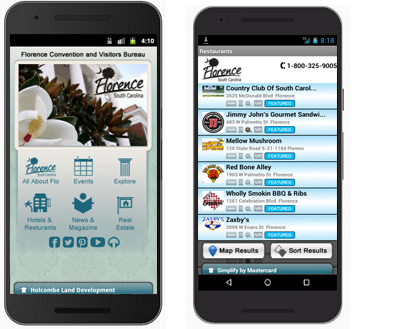 AppsinaSnap Apps Increase

Tourism, Revenue And Membership

Whether you're a convention and visitor's bureau, a chamber of commerce, or a business improvement district, an economical, easy-to-navigate AppsinaSnap app can bring more tourists to your town and more members to your organization. You can even monetize your app to offset its cost by charging each member a small annual fee. Your app serves as a guide-in-your -hand that helps visitors visit attractions, sights, merchants, and events during their time in your community.
Our apps put a guidebook on your Smartphone
We create apps for the most popular platforms; iPhone, Android, iPad and android tablets
Update your information yourself, or let AppsinaSnap do it for you with a fax or email
Our apps are cross platform; iPhone & Android are all standard
Present a full page for each member or attraction, complete with pictures and links to their website
By having a guide on a smartphone you save on printing costs and be environmentally responsible
Provide email and call functions
Promote local restaurants and tourist destinations
Promote community events
Display photo galleries and have user upload images
Local news or information with RSS feeds
Display a map of your location and directions to members using a phone's built-in GPS navigation
List local businesses by category and on maps
Display special services such as medical and police information
You can learn more about our mobile apps from your in-person AppsinaSnap rep. Call or email today to set up an appointment.